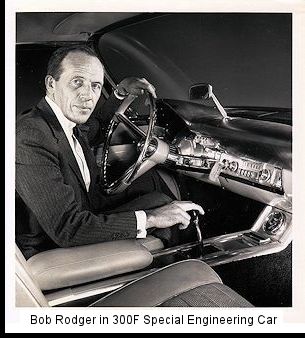 It is the consensus of all knowledgeable connoisseurs of Chrysler 300 Letter Cars that the 300F 4-speed cars are the ultimate collectible; the pinnacle of production, the very embodiment of the Letter Car Idea Bob Rodger had, simply put: the utmost, supreme, ideal, transcendent, ultimate, preeminently desirable 300. So why don't we all have one in our garage?
The answer is a little matter of production numbers. There is no microfilm documentation that ANY were built at all! That's right, there was no code for the option package of 400 hp motor and 4-speed transmission. The cars were produced as standard 375 hp, torqueflite cars and then modified in a special building sometimes referred to as the "Header House" after they were completed cars. So, the microfilm record shows a standard power train F. The only indication of something out of the ordinary comes in the time span between the "schedule" building date and/or actual "date built". Where a few days are common for a production car, several weeks time span is found for cars that are special. And that is why the correct model name of an F 4-speed car is "300F Special".
The current existence of four 300F Specials verifies some were built and we know historically that at least six were entered at Daytona Beach Speed Week in 1960. There is a photo of Bob Rodger behind the wheel of one and a photo showing the trans in a car up on a hoist. When Chrysler Engineer Paul Mallwitz (now deceased) spoke to the Spring '82 meet of the Chrysler 300 Club International, he revealed that a red "mule" test car 4-speed F was a seventh F Special at Daytona. By documenting two other cars back through history, two more Specials were built post-Daytona: a black air-conditioned hardtop for construction company owner Andrew Drumm, Jr. of Fallon, NV, and a white convertible for George Kuehm who owned Edwards Motors (Chrysler dealership) in Milwaukee, WI. Kuehm was a friend of Carl Kiekhaefer, owner of Mercury Outboards and well known for Nascar success with his teams of 1955-56 Chrysler 300s.
That seems to "historically document" that nine F Specials were assembled. There are innumerable rumors of 4-speed Fs past and present. Only one of these, to my knowledge, has any truth in it. A carb restoration specialist, Bob Harris, of Corona, CA, relates a long and detailed story of a Mr. George Miller, who lived in the Pasadena area in 1960. Bob, as a teenager vividly remembers riding in, and has slide photos of, the Miller family Toreador Red F 4-speed car. It may have been the "mule" car Mr. Mallwitz mentioned, or it may have been a third post-Daytona produced car. As of this writing, it is believed to have ended up being parted out in Phoenix, AZ in the late '60s.
I already hear someone hollering "What about Andy Granatelli's car that ran 189.99 mph at Bonneville?" Well, that was in '61. It is believed that he purchased from Chrysler Corp. one of the Daytona cars, very likely the one Danny Eames drove.
---
Special or modified parts used to create the 300F Specials.
Intake manifolds with shorter internal runner divider (part number 2129986 and 2129987)
Cast iron exhaust headers (part number 2129998 and 2129999)
2.5 inch exhaust system with 4-bolt header flange
Mufflers supplied by Arvin
Oil pan flange-to-exhaust manifold support brackets
Exhaust manifold-to-intake manifold support brackets
Carter 3084S AFB carburetors with manual choke
Throttle return spring brackets attached to carburetor mounting studs
Choke knob and cable from 1940s Dodge pickup going to splitter at rear of engine with separate cables to each carburetor
Choke well block off plates
Brass water fittings (4) for intake manifold heat chambers
Brass tees for intake manifold water heat system
Water hose (approx 11 feet) for intake manifold water heat system
Air cleaner base with longer stud
Air filter elements 2.78" tall (part number 1670694)
Cylinder heads with larger 1.74" exhaust valves
Camshaft
Solid valve lifters
Pushrods
Adjustable rocker arms
Spark plugs, Autolite A-201 or Champion J-79
Ignition wires, pink-orange silicone jacketed, glass inner braid, stainless steel non-resistance conductor
Alternator and brackets
Radiator transmission cooler plugged
Hood rear corner braces removed to clear taller air cleaners
Sure-Grip differential standard with 2.93 or 3.31 axle ratio
Pushbutton shifter block off plate, some cars had back-up light switch mounted there
Pont-à-Mousson 4-speed transmission, bellhousing and clutch
Clutch and brake pedal assembly and linkage
Transmission tunnel modified for shifter
Console modified for shifter
Console top plate with shifter boot and bezel

Also see the 300F AMA Specifications Document for full details on standard and special 300F models.







---
Automatic Transmission 300F Specials - Story by Wayne R. Graefen, July 2016
When I took my 300F Special GT to Austin, TX in 2007 for the reunion of 1951-53 graduates of Chrysler Engineering Institute, which included Burton Bouwkamp, it was a great honor and great evening. My black F was the centerpiece on the front lawn of engineer Bill Gaston's home where the dinner was held.

Burt assembled the group of engineer's and their spouses on the lawn next to the car to tell them about the corporate promotional effort at Daytona Beach Speed Week for the 1960 models. He explained that they went to get the presses attention to the 300F but that instead the journalists were fully enamored with the new compact Valiant out there charging through the gymkhana course.

Burt hit some of the highlights of the story of the 300F Gran Turismo models at Daytona. The noise created at the motel from them warming up so slowly, the flying wedge of these cars opening the beach each morning, using the city dealership garage for fine tuning, mentioning some of the drivers and owners of the seven cars present, the disqualification of the mule test car, the success in being the six fastest cars on the sand, AND that they had built fourteen or fifteen GT cars total.

WHAT DID I JUST HEAR? I was palpitating rapidly waiting for the finish to discuss the total production number because that actual number factoid had been totally lost to recorded history until this moment. The answer had to wait until completion of dinner. Digestion was problematical and I passed on a second glass of wine so as not to misunderstand what I was to hear.

When the team and some cars returned back to the factory some important people had heard the dominating results at Speed Week by the Fs and wanted one BADLY. Names like the president of Coca Cola and Bill Harrah's buddy Andy Drumm Jr. and the big dealer, Kuehm in Milwaukee, and also Carl Kiekhaefer and Briggs Cunningham. But alas there were no more Pont-à-Moussons (as they held some back for service replacement) so the further builds needed to be automatics. The possibility had never crossed my mind.

Today we can document one of those automatic GT Fs by the earlier method of looking at the build record for the 300F hardtop that Elmer Carl Kiekhaefer purchased. It had a several week delay from the end of production line to its shipment date, in this case likely factory pickup as Mr. Kiekhaefer always sent his employees to drive his special cars from Detroit to Wisconsin.

There was sufficient pressure from the Harrah dealership and Andy Drumm's corporate legal team for a manual 4 speed car that the factory relented going so far as to add AC per the order. Weeks later, perhaps as a "halo car" to the GT project, one convertible was also constructed and sent to Kuehm. Two less P-à-Ms at the factory for parts.

If we assume that the correct total number of manual transmission 400HP short ram F cars is nine (a number Bouwkamp can neither confirm nor deny as he can not be sure), then there were five or six torqueflite-equipped 400HP short ram F cars. For many years now, my research of these cars has remained conclusive that a total of nine F GT manual transmission cars were built.

Why didn't we know about the GT automatics? The 400HP GT cars with water-heated intakes were intractable until they had sufficiently warmed to open their thermostats starting circulation of still-increasing temperature coolant. We know the headers and 2.5 inch full-length exhaust had a significantly higher decibel level over stock and were raucous to driver and observer. Necessarily the carburetors had inconvenient manual chokes as there was no heat bung on the special 4-bolt headers from which to plumb automatic chokes. The expectation would be that if the original owners of F GT automatics did not begin changes to standard F production carburetors and intakes and exhaust manifolds that secondary owners would have done so. The most likely GT-specific parts to remain were an adapted exhaust system and still usable camshaft. The earliest modifications disguised the special order build history.

The Kiekhaefer black F GT auto car is VIN 8403124593 and at this writing is not known to exist. Others may be found if enough survivor car build sheets are requested and analyzed.

***
If you have or know of one of these cars, we'd sure like to hear about it. Key indicators would be the cut out hood braces and the choke cable mounting in the dash.