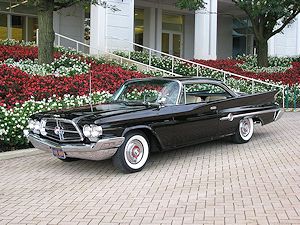 This 1960 Chrysler 300F Special GT was originally owned by Gregg Ziegler and was the 1960 Daytona flying mile winner.
This car is set to be auctioned in August 2016 in Pebble Beach by Gooding and Company
Click here for the auction details.
Gregg Ziegler, a hardware store owner in Elgin Illinois, acquired this 300F Special GT from Chrysler Engineering in early 1960. Ziegler had gotten the attention of Chrysler for his previous stints at Daytona Speed Week and was given the opportunity to purchase this factory-prepared 300F for the 1960 Daytona speed trials. Soon after picking up the car at the factory in Michigan, he was off to Daytona Beach Florida for the event. He placed first in the flying mile with an average speed of 144.927 mph.

Click here for more information on the 300F Specials.
Just a few months after setting the Flying Mile record, Ziegler sold the car to auto enthusiast Bob McAtee of Bloomington, Illinois. Ziegler returned to Daytona in 1961 with a new 300G and also placed first in the flying mile, but not besting his record of the previous year. This would be the last running of Speed Week on the beach at Daytona so the 1960 record still stands today. McAtee more than likely is the one who added the chrome accessories to the engine. Mr. McAtee passed away in 2007 at the age of 84 and the car was then sold by his estate in 2008 to Larry Tarantolo.
The car remains almost totally original with less than 12,000 miles on the odometer.
See the December 2010 issue of Collectible Automobile Magazine for a great article covering the complete story on Gregg Ziegler and his 300F written by Andy Mikonis.