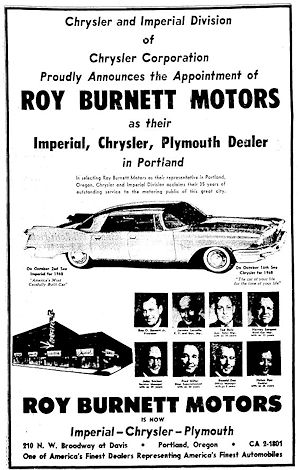 My Chrysler 300F was shipped on May 21st, 1960 from Chrysler's Jefferson assembly plant to Roy Burnett Motors, Inc. in Portland Oregon where it was purchased by G. William (Bill) Shafer of Winthrop, Washington. At the time, the main location for Roy Burnett Motors was at 210-220 NW Broadway in Portland. This location included two buildings with parking on the roof of one section, as well as several floors for display, mechanical service, parts, and body repair. They also had other buildings in the area for parts and service as well as for used car sales. The building on NW Broadway still exists and is now the headquarters of Pendleton Woolen Mills and the location for their Home Store.
NOTE: I'm looking for any period pictures of Roy Burnett Motors, especially from 1960 or later. and license plate frames for my car.
The following is the history of Roy Burnett Motors, Inc. that I've put together from research.
In February 1926, Roy O. Burnett opens Roy Burnett Motors at 42nd and Sandy Boulevard in Portland Oregon selling Oakland and Pontiac cars. Previously Mr. Burnett was well known in the northwestern automobile business as a sales manager for a west side Portland automobile firm. He was in that position for 9 years followed by a few months as a special representative for Lincoln motor cars.
In 1929, Roy Burnett Motors moves to 17th and Morrison Street. Later that year switching to selling DeSotos, and adding Plymouth in 1930. On March 5, 1939, Roy Burnett Motors has a grand opening at the new Burnett Automotive City at 18th and Morrison Street, across from the Multnomah Civic Stadium and across 19th street from the previous location.
On March 6, 1941, a 3-alarm fire destroys Burnett Automotive City and several other businesses on the block. The loss to Burnett was $300,000 and included 150 new cars, 100 used cars and 25 cars belonging to customers. Also lost was their entire stock of DeSoto parts as well as Plymouth parts stored in the building. The main supply of Plymouth parts and additional new cars were at other locations. In 1944, the burned out shell of the building was converted into The Civic Court Apartments, which in turn was demolished in the mid 2000s to make way for new building and housing projects.
After the fire, Roy Burnett Motors immediately moves to a temporary location at 210 NW Broadway in Portland, which had been another automobile firm. This ended up being their main location for 38 more years. They also placed a $50,000 order for DeSoto parts to replace the stock lost in the fire.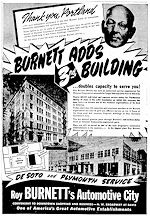 In July 1941, Mr. Burnett announces a new service addition in a 7-story building at NW Everett Street and NW 8th Avenue, to be opened on September 1st. This former drug company and warehouse was reportedly the most fire-proof building in Portland after Burnett updated it with an automatic sprinkling system and new wiring. It is also claimed to be virtually bomb proof, due to being built of super-reinforced concrete. Burnett modifies the building to include a new noiseless elevator that can carry cars between floors in seconds. In April 1942, the service building is leased by the Oregon Transfer company and the Federal Reserve Bank of San Francisco in order to store the personal and business possessions for Japanese citizens that are being sent to internment camps during World War II.
In June 1945, Burnett buys the 1920 4-story Mitchell building at 220 NW Broadway, which is adjacent to their existing new car location, giving them the entire block. Improvements are made to give better access for vehicles to the second floor. In December of that same year, Roy Burnett Motors, Inc. becomes the exclusive distributor of the Cessna all-metal monoplane. The planes are to be displayed in the showroom at this location. Parts will also be sold through the dealership with service provided at a local air field.
Roy O. Burnett Jr. joined the firm after returning from WWII where he was a U.S. Navy pilot aboard the USS Intrepid and USS Hornet. He became president of the firm in the early 1950s when his father retires. In the fall of 1959, Roy Burnett Motors, Inc. announces that they have become the Portland area representative for Chrysler and Imperial, just in time for the introduction of the new 1960 models. They were selected based on their management setup, facilities and capital as well as their desire and experience. They kept Plymouth and added Valiant, but apparently dropped DeSoto.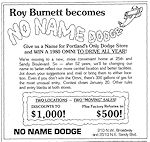 In 1975, Roy O. Burnett Jr. retires and moves to Palm Desert, California. Business at the NW Broadway location appears to continue through August 1979 when they seemed to have changed from Chrysler Plymouth to Dodge. Later that year they appear to have moved a block away to 123 NW Broadway and the name changes to Roy Burnett Dodge. This address was one of their used car locations. By December 1979 they were running ads calling themselves "No Name Dodge" and running a contest to find a new name. They also move to 25th and NE Sandy sometime after that. They then take on the name of Four Seasons Dodge. By 1982, new owners have taken over and the dealership is renamed as Timberline Dodge.
The end came in 2009 during the recession when Chrysler went into bankruptcy and canceled many franchises. Although the owners of Timberline Dodge fought to retain their franchise, they were unsuccessful and closed. The owners had to lay off most employees and sell off most of their real estate including their own home. They opened a tire store nearby. A sad end to a business that started in 1926.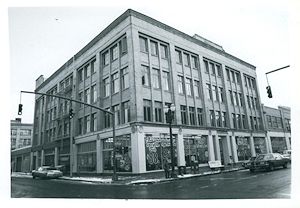 1981 photo showing the building after Burnett left.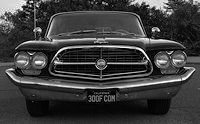 Nick's 300F