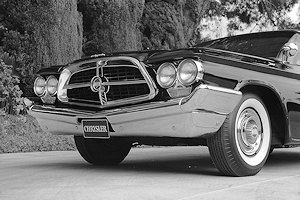 This 1960 Chrysler 300F Special GT was owned by Wayne Graefen for twenty three years and sold in 2014.
Chrysler Corporation built nine 300F cars with hand-assembled 400 horsepower motors employing short ram induction, cast iron headers and a special camshaft. First factory use of an alternator. To this was attached a fully synchronized Pont-a-Mousson 4-speed transmission as available in Facel Vega. Final drive was a 2.93 gear set with Sure-Grip limited slip differential but is now a 3.31 Sure-Grip for more practical use. Six of those cars competed at Daytona and were the six fastest production cars ever at Daytona Speed Week. Chrysler called the construction of these cars "The Gran Turismo Project" in engineering notes unearthed decades later.
The featured car is one completed post Daytona. It was special ordered through gaming magnate William Harrah's Chrysler Plymouth dealership in Reno, Nevada. First owner was Andy Drumm, Jr. of Fallon, Nevada who was the owner of a very large highway construction company and sportsman of renown.
Click here for more information on the 300F Specials.
Click here for more information on the 4-speed transmission.
This car received a bare metal re-spray in 1992 using base/clear. With northern Nevada heritage this car had never known rust. The motor had been rebuilt just prior to Andy's passing in 1970 and traveled little mileage since. Front seats recovered, rears remain factory original. Of the nine Special GTs built only one had factory air conditioning and this is the car; a true one-of-one built.
This is the absolute zenith of all 300 Letter Car production. THIS IS THE LEGEND.
All photos on this page by Wayne Graefen. Shown standing with Wayne next to the car is Burton Bouwkamp, Chrysler engineer who spearheaded the Daytona Speed Week record setting as well as working on multiple big projects and programs for Chrysler.